WHY CHOOSE US?
LaCroy  is a pioneer company operating since 1996. LaCroy has identified a range of fragrances which are synthesized to pharmaceutical levels of purity and added into our products. 
We have a proven track record with worldwide distribution and they are now available directly to you! Unlike other manufacturers, LaCroy can provide analytical proof of the quality and concentration of fragrances and pheromones in the mixes.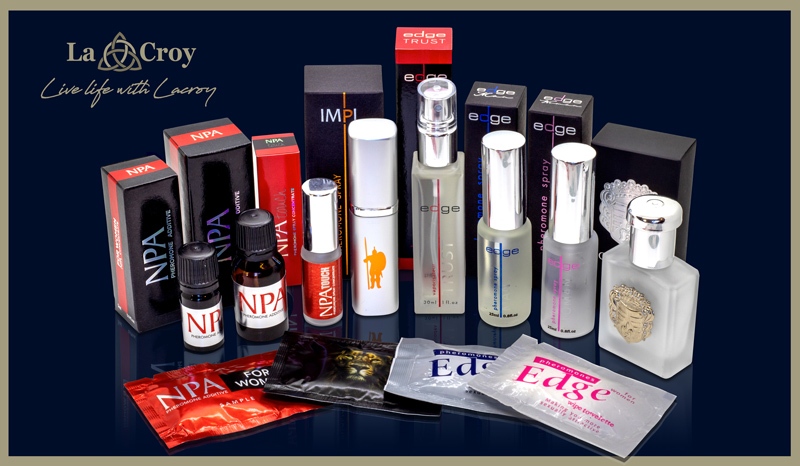 Your products are brilliant and effective. Thanks for the continued professional Service!!
I got LaCroy products a few years back from a local online site and never knew they shipped directly to the US. I have since bought an NPA and IMPI a month ago, took about 2 weeks to get here. Bit slow but reliable and great guys to be chatting with. Happy customer!
Got my best results with BTB so far, being the centre of attention and communication. Will have to experiment with Impi and NPA a bit more to find the right dosage Great service and very helpful communication
Love LaCroy! Wow, missed the IMPI red! Awesome smell and drives women crazy! The forums have mentioned this great product and it certainly is! Gonna try the NPA shortly.
I was a little skeptical ordering from LaCroy in Cape Town but what an excellent service they provided, 10 days it took to get my package. I last tried the Edge back in 2010, had good results then and was hoping for the same results – I met my current girlfriend (now going strong for 6 months) the first week I started using it, crazy really!
I liked the fact that NPA is not fragranced, it was like I had a raw product that could go work soley based on pheromone technology. NPA was given to me by a friend and I started wearing it all the time. I noticed I was getting more attention from the girls at work, and in my social life, it was the same. It has given me more confidence and success in my social life and I would not be without it going forwards!
I purchased BTB from Lacroy and to be honest I was very skeptical at first but I can honestly tell u that it does work...I used two drops on my wrist before going to work...The Effects:People greeting me like I'm in charged...People talking to me nonstop...I also feel very confident and happy..Got a few glances from female co-workers...Overall I am very impressed
Lacroy rocks: NPA, Impi and NPA Touch work synergistically and turn up the heat like crazy. Give yourself a treat and escape the friendzone!